Airport Shuttle - ACCOMMODATION TO AIRPORT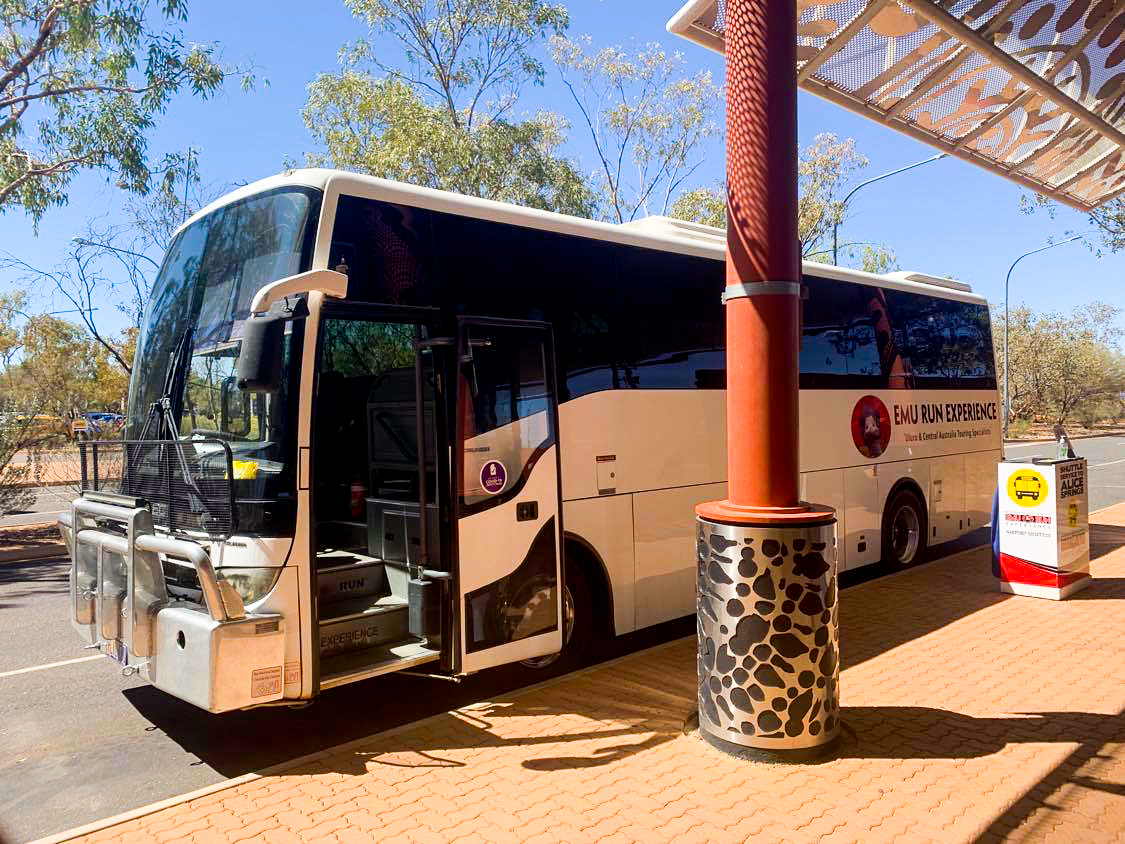 Duration: 15 Minutes (approx.)
Location: Alice Springs, NT
Product code: AS-A2A
THE AVAILABLE TIMES/SESSION ARE THE TIMES WHEN YOU WILL ARRIVE AT THE AIRPORT. YOU MAY SELECT THE TIME CLOSEST TO YOUR DEPARTURE.


DUE TO MONTHLY CHANGES IN THE AIRPORT FLIGHT SCHEDULE, MAKING A BOOKING BEYOND THIS MONTH WILL REQUIRE YOU TO RING OUR RESERVATIONS TEAM ON (08) 8953 7057


This shuttle will meet you at the airport at the time booked and give you time to collect your luggage. If you have a booking, please present yourself to the Shuttle service counter or the Driver outside the Terminal Building upon arrival.

IF YOU NEED TO BOOK A RETURN, AFTER YOU HAVE FINISHED THIS ORDER PLEASE GO TO 'MAKE ANOTHER'.
CLICK THE BOOKING ICON AND SELECT THE RETURN TRANSFER YOU REQUIRE.
Emu Run Airport Shuttle Transfers are the only Airport Transfer (Shuttle) service available from the Alice Springs Airport. Our service transfers you directly to/from your accommodation.
-------------------------------------------------------------------------------


Return Transfers can be pre-booked online on the previous page, from your hotel reception, at the Airport, or alternatively, call our office at (08) 8953 7057.


Simply advise your flight details and we will look after the rest!
Our scheduled Flight Departure routes ensure you will arrive at the airport no less than 1 hour prior to departure for every flight.


When arranging any group (over 10 people), event, or conference visits to Alice Springs please email or call our office and we will arrange the transfer of your group/clients/delegates on the scheduled Flight Transfer or can arrange a private meet and greet transfer on a charter basis. Special group and charter rates available upon request.


As flight times may vary due to Airline operational requirements and seasonal variation all flight and departure times should be confirmed 24 hours prior to arrival or departure.
Any variation to your flight times will affect your transfer time and this must be reconfirmed prior to pick up.
We look forward to meeting you in Alice Springs, the "Heart of Australia".


Effective 1 APRIL 2022, a 1.3% credit card surcharge will be added at checkout and is non-refundable.